Areas of Focus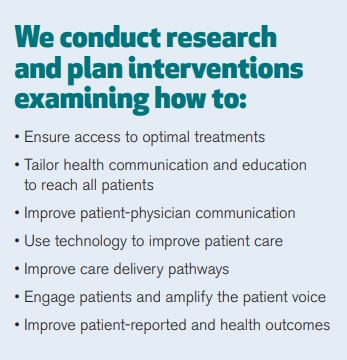 Federally-Funded Research
Ensuring Informed Decision-Making for Paired Kidney Donation (Project Lead: Amy Waterman, PhD)
This project is funded by the Health Resources and Services Administration (HRSA). The study will design a new health literate and culturally competent KPD and living donation print and digital educational curriculum and assess its effectiveness for increasing living donation and kidney paired donation (KPD) decision-making for potential living donors and transplant candidates.
Multilevel Intervention Strategies to Transform Kidney Care & Improve Pursuit of Transplant in an Integrated Healthcare Delivery System. (Project Lead: Amy Waterman, PhD) 
This project is funded by the Agency for Healthcare Research & Quality (AHRQ). In collaboration with Kaiser Permanente Southern California, this project aims to improve kidney care and transplant rates in the KPSC health system through system changes, inclusion of a peer mentoring program, and dissemination of an innovative technology-supported (mHealth) application to engage patients, family members, and potential living donors in pursuing transplant, including learning how to find living donors.
Using Artificial Intelligence to Improve Cardiometabolic Health: Validating a Kidney Transplant Derailers Index to Predict Transplant Drop-Out Risk for African American and Hispanic Patients (Project Lead: Amy Waterman, PhD) 
This pilot project is funded by the National Institutes of Health's Artificial Intelligence/Machine Learning Consortium to Advance Health Equity and Researcher Diversity (AIM-AHEAD) program.  The purpose of this project is to identify a set of clinical, socioeconomic and other variables correlated with a patient's failure to complete transplant evaluation in a large, multiethnic population, and utilize machine learning to develop and validate the Kidney Transplant Derailers Index (KTDI 2.0) incorporating novel clinical and community level variables.
Assessing the Acceptability and Feasibility of Culturally-Adapted Edutainment For Black Adults With Obesity And Other Cardiometabolic Conditions (Project Lead: LaShara Davis, PhD) 
This pilot project is funded by the National Heart, Lung, and Blood Institute (NHLBI).  The purpose of this project is to assess the acceptability and feasibility of edutainment-education as a strategy for future interventions designed to promote weight loss and better management of cardiometabolic risk for Black adults and other disadvantaged populations.
Research Funded through Foundations and Other Sources
The Living Donation Storytelling Project (Project Lead: LaShara Davis, PhD)
The Living Donation Storytelling Project is a digital library of culturally diverse stories from real people sharing their living donor kidney transplant experiences. The digital storytelling platform has more than 125 stories from living donors, recipients, allies, including those exploring the idea of donation. Individuals interested in finding a living donor or seeking a donor on behalf of another can film their stories, include them in the library, and broadcast them using Facebook and Instagram to their own communities.  www.livingdonationstories.org
Connecting the Dots: Using Digital Storytelling to Educate the African American Community about the link between Diabetes, Hypertension, and Kidney Disease (Project Lead: LaShara Davis, PhD)
This grant, awarded by the National Kidney Foundation (NKF), is designed to support research that prevents, reduces, or eliminates kidney health disparities while advancing health equity in local communities at high risk for kidney disease. With this funding, we plan to expand the use of digital storytelling to design health messages about kidney disease that better connect with African American/Black patients, increase awareness of the relationship between kidney disease, hypertension, and diabetes, and motivate actions to monitor their kidney function.
Linked by Love Edutainment Project (Project Lead: LaShara Davis, PhD)
This project is funded by Mendez National Institute of Transplantation Foundation and the UniHealth Foundation. This project assesses the relatability and cultural appropriateness of an "edutainment" (education + entertainment) series about chronic kidney disease in an African American family. The Linked by Love edutainment series follows an African American family's journey from diagnosis of kidney disease to receipt of a living donor transplant via paired donation. After conducting focus groups to assess the cultural appropriateness of the script, the team will conduct a pilot randomized control trial (RCT) to assess the effectiveness of the transplant edutainment video series at increasing key metrics including knowledge about and pursuit of CKD prevention and transplant.
Paired Donation Research and Education through the National Kidney Registry (NKR) (Project Lead: Amy Waterman, PhD)
We work with research collaborators nationally supporting active research on living donation and kidney paired donation using national kidney registry (NKR) data to improve education and outcomes of patients and donors undergoing kidney paired donation.